Reporting from Tijuana — 
There was confusion on Monday among northbound migrants in Tijuana, following the Trump administration's latest effort to ban virtually all foreigners from filing for asylum in the United States.
Many, like Milsa Garcia, hadn't even heard of the plan. The 33-year-old Guatemalan woman has been in this sprawling border town for 15 days since she was deported back to Mexico, after being apprehended by U.S. Border Patrol after crossing the Rio Grande with her 4-year-old son on a raft.
"I don't know anything about that," she said of the changes announced by the U.S. government. "I just want to go to the U.S. to find a better life for my kids. The father of my children threatened to kill me, so I had to leave."
She stood in front of dozens of tents set up as makeshift homes on the concrete ground of a Tijuana shelter. Young children played with toy cars, baby dolls and other trinkets in the corners, while their parents looked on. As Garcia spoke, her son, Fabian, tugged at her leg. "Mama!" he whined, pleading for attention.
Once she was apprehended by U.S. Border Patrol in Texas, Garcia was given a sheet to sign in English, she said. She didn't understand what it was, but she later found out that she had filed an asylum claim. Now, she's awaiting an August court date.
Garcia left three other children at home under the care of her mother. She hopes that she will be able to cross into the United States and send money home to them. But she doesn't want to stay in Mexico. "It's very dangerous here, and there is no work."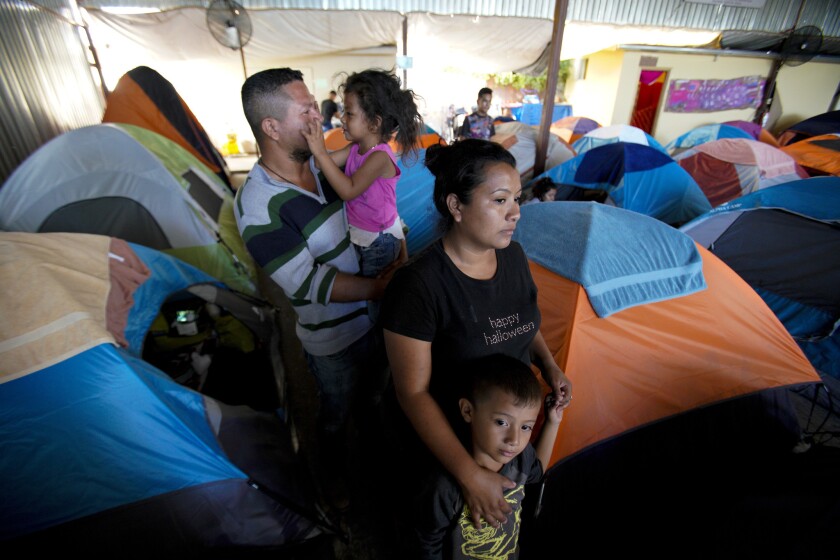 Under the new rule, which is set to take effect Tuesday, migrants arriving at U.S. territory on the southwest border would be deemed ineligible to apply for asylum if they had failed to file for safe haven in another country en route to the United States. That would practically overturn long-established U.S. asylum law, which provides a legal right for anyone arriving at the border to claim protection by making a case that returning home would subject them to torture, persecution or worse.
Thousands of migrants, mostly Central Americans such as Garcia but also large numbers of people from Cuba, Haiti, Congo, Cameroon, Eritrea and elsewhere — have been waiting in Tijuana to enter U.S. territory and file asylum claims. Some have been in line for months. But the new rule would jeopardize their already slim chances of gaining refuge in the United States.
Numerous immigrant rights groups and elected officials have denounced the move. Advocacy groups, including the American Civil Liberties Union, vowed to challenge the new rule, but it was unclear if any court action would block it from taking effect on Tuesday as scheduled.
A number of migrants interviewed in Tijuana on Monday said they didn't see any logic in applying for asylum in Mexico, Guatemala or any of the other countries they had traveled through before arriving at the border. Some suggested that they would rather entrust their fate to U.S. Border Patrol agents than to the drug-running criminal gangs and other predators that have ravaged large swaths of Central America, causing many people to leave their homelands and head north.
"I'd rather someone from immigration pick me up than someone from a cartel," said Gabriella Ortega, 29. She had traveled from her home country, Honduras, and crossed the Rio Grande in Texas with her two young children, but was picked up by U.S. immigration authorities and sent back to Mexico.
She has been staying at a Tijuana shelter called the Movimiento Juventud 2000 for five days. The shelter houses about 150 migrants, staff said. But Ortega said she did not feel safe staying put in Tijuana.
"Mexico is a huge country that is just as dangerous as ours," Ortega said.
Her friend, Teresa Santos, sat beside her, nodding her head while her two children, ages 2 and 9, played with toys on the ground in front of her. Most of those staying at the shelter are women and children, whose tents are crammed together side by side.
"We tried to rent a house for cheap nearby, but we were threatened that people were going to kidnap us," Santos said. So Santos moved to the shelter, where she says she feels more secure. Since being sent back to Mexico, both women have been waiting for asylum court dates this year.
The shelter's director, Jose Maria Garcia Lara, 52, said that the space has been housing migrants, mainly Central Americans, since mid-2017. But he, too, is confused about the upcoming changes in asylum claims.
"We have no idea what's going to happen," he said. "It's possible that everyone is going to have to stay in the countries they are in now."
But he said that the shelters in Tijuana are already overcrowded, and he doesn't know if any of them have the capacity to continue taking people in — especially if all asylum claims are going to be rejected under the new rule.
And he didn't see why migrants ever would decide to apply for asylum in any of the countries they traversed before reaching the United States. "There's no economic incentive in the countries they pass through," he said. "And they're dangerous."
One couple had just arrived at the shelter that morning. Leidy Rivas and Gustavo Loza made the journey to Tijuana from El Salvador with just two small bags, filled to the brim with clothes. Their two children, Katerine, 4, and Hamilton, 5, were happy to be there. Katerine held a plastic doll dressed in pink and pretended to nurse her with a toy milk bottle.
"Some of my family members have been killed," said Loza, 42. "We don't feel safe back home."
The couple were not aware of the possible changes in asylum claims, and plan to wait in Tijuana until they are assigned a court date for their case. On Tuesday morning, they plan to put their names on the informal waiting list for U.S. asylum petitions. They do not want to attempt to cross the border — they've heard it's too dangerous, they said.
"The journey has been a sacrifice for the whole family," Loza said. "But we have faith and hope that we will get out of here as soon as possible."